Give me all the bodysuits and none of the wedgies, please. I don't know why 99.9% of women's bodysuits are made with thong bottoms, but I do know that I'll take pantylines over wedgies any day.
My quest to find a full-coverage bottom bodysuit proved to be…difficult? Nearly impossible. Brands don't advertise in the product names what style of bottom a bodysuit is, leaving me to sift through many article descriptions and photos to figure out what my butt's fate would be in a particular bodysuit. Some retailers don't even show you the bottom of the bodysuit, which meant I had to sort through pages of reviews to find the answers I was looking for.
By complete accident (I was looking for a pair of paper bag pants), I stumbled upon Gap's Modern Bodysuit, and I've never looked back. While I still wish they would clearly disclose somewhere in the title or description that it is full-coverage, I'll settle for keeping my favorite bodysuit a hidden gem that I get to share with you all on here.
Made of a soft cotton and modal knit fabric, the Modern Bodysuit has a snap button closure that doesn't chafe your legs and comes in just about any color you can imagine. My favorite has to be the cedarwood orange pictured above, but don't think I only bought it in one color. I own four colors and counting.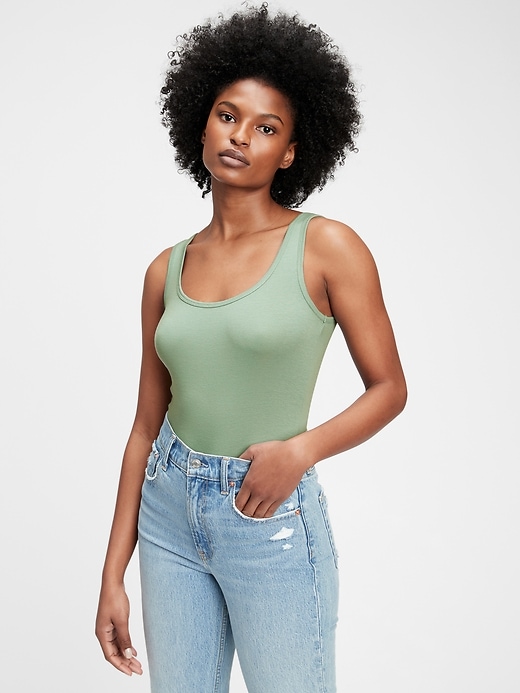 Bodysuits are one of my favorite articles of clothing because once they're on, they're on. There's no fussing around with pulling my shirt up or down to make sure it's tucked into my pants properly, and now that I've found a full-coverage bottom, I also don't have to live with a permanent wedgie, either. Here's to having both comfort and style.
xx,
Anna
"Form and function are a unity, two sides of one coin. In order to enhance function, appropriate form exist or be created." – Ida Pauline Rolf