My dining room is a bit of a Prince and the Pauper situation, except, you can't really tell who the pauper is. I bought the table when I was living in the city. Knowing how transient life could be, I didn't want to spend a lot of money on a piece I would be sad to toss if I had to during my next move.
Of course, I still wanted it to look good (um, champagne diet on a lemonade budget, please). Naturally, I went to one of my favorite places, Bob's Discount Furniture (stay with me here). I own several large items from Bob's and despite the "discount" in their name, I have found that it is mostly the prices that are discounted, and not the quality. The Montibello 42″x70″ White Marble Dining Table is one of the best finds I have come across, clocking in at only $399.00, but looking way more than that. Everyone from my movers to my friends have commented on how nice the table looks and I get some weird satisfaction out of telling people it's from Bob's.
I didn't end up having to throw it out when we moved as the table fit in our new dining area. My boyfriend's one request, though, was that we buy new dining chairs. My old chairs, though comfy for me, were too small for his six-foot frame. I hunted for an rustic, but elegant French bistro dining chair and fell in love with the Serena & Lily Riviera Armchair. Spoiler: they are not definitely not discounted. While there are several "knock-off" versions, I could tell the difference in detailing between the Serena & Lily chairs and their less-expensive counterparts. So, I bit the bullet and splurged on six of the Riviera armchairs during a 15% off sale they were having. Serena & Lily frequently does sales, especially during the big holidays, so if you're going to pony up the cash money, I would wait until you can get them at a discount.
If the thought of spending $300+ on one dining chair gives you hives (trust me, I had to do a lot of soul searching before I could bring myself to justify it), the next best one I found was the Toulouse Taupe White Dining Armchair ($229) from Article.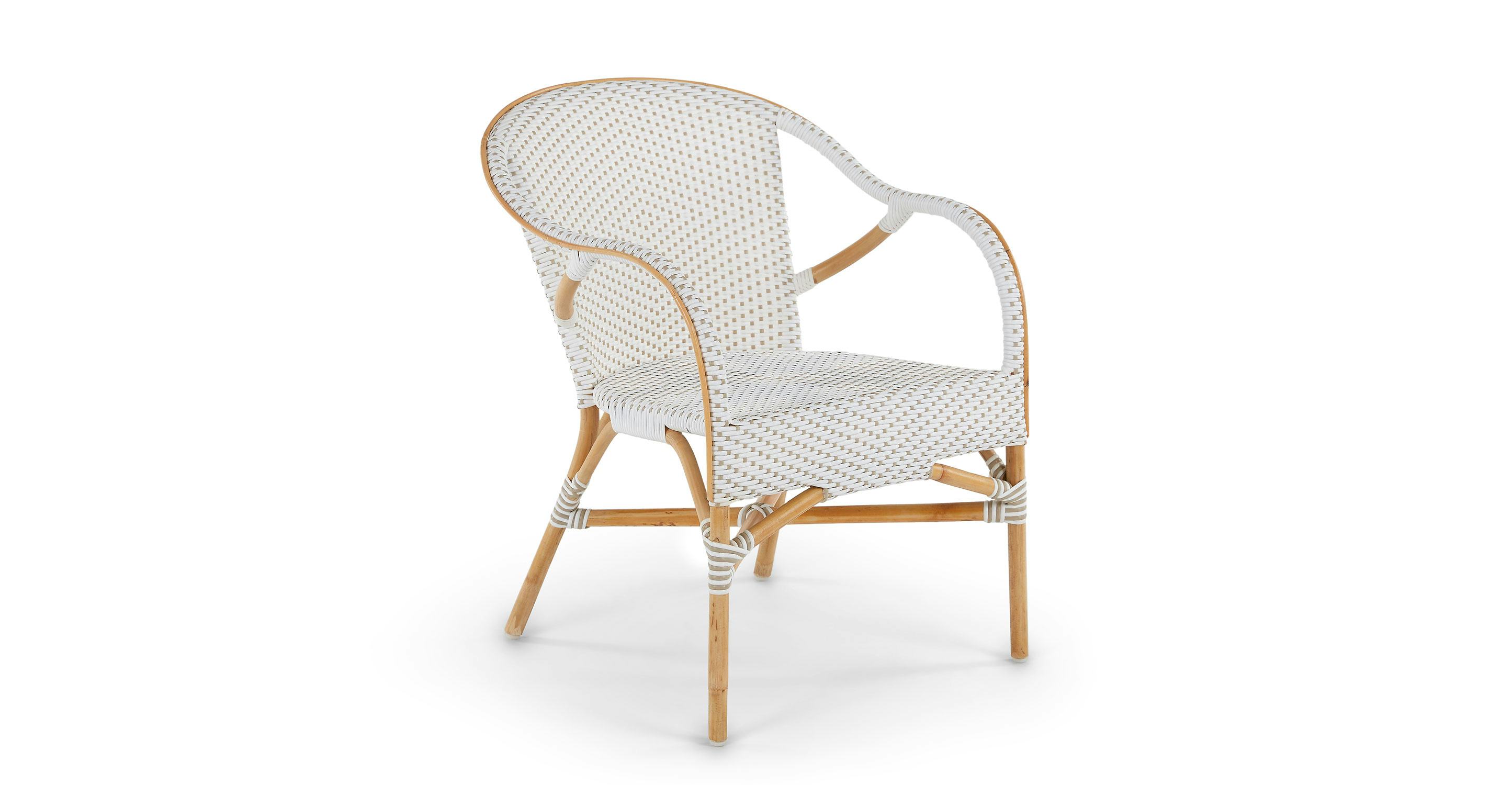 While there are some obvious differences, this will still give you the overall look and feel of dining in a bistro overlooking the Côte d'Azur.
I accented the rattan frames of the Riviera chairs with our woven place settings (Natural Jute Braid Charger – Threshold) from Target. They're only $5.99 each and help to break up the white landscape of my table.
With dining table centerpieces, bigger is (usually) better. Crate & Barrel sells hurricane candle holders in many different sizes, but I went with the Taylor Large Glass Hurricane ($19.95) in order to keep things proportional on the table.
While fresh flowers on a dining table can't be beat, most of the time, I just want something that is pretty and low-maintenance. I bought a few sprigs of faux white roses from Michael's and crafting beads in varying sizes to serve as a daily centerpiece.
No chandelier? No problem! I didn't have a chandelier in my old apartment and I still don't have one. The Orbita Gold Arched Floor Lamp ($243.99) from Overstock.com was our solution to add a bit more light and decor to the dining area. By doing this, we saved on having to call an electrician to cut a hole in the ceiling for a new hanging fixture.
I hope this shows you that you can have a well-designed room on a budget by allocating your money in specific ways. I am a firm believer that "more expensive" does not always equal "better", so it is just about finding the combination of high-end vs. "low-end" (I say this tongue-in-cheek since my dining table doesn't look or feel low-end) that works for your budget. Thanks so much for stopping by!
"Making the best of what we do have, instead of begrudging what we don't, has a way of creating all that we'll ever need." – Charles F. Glassman